One Year as a Microsoft Cloud Developer Advocate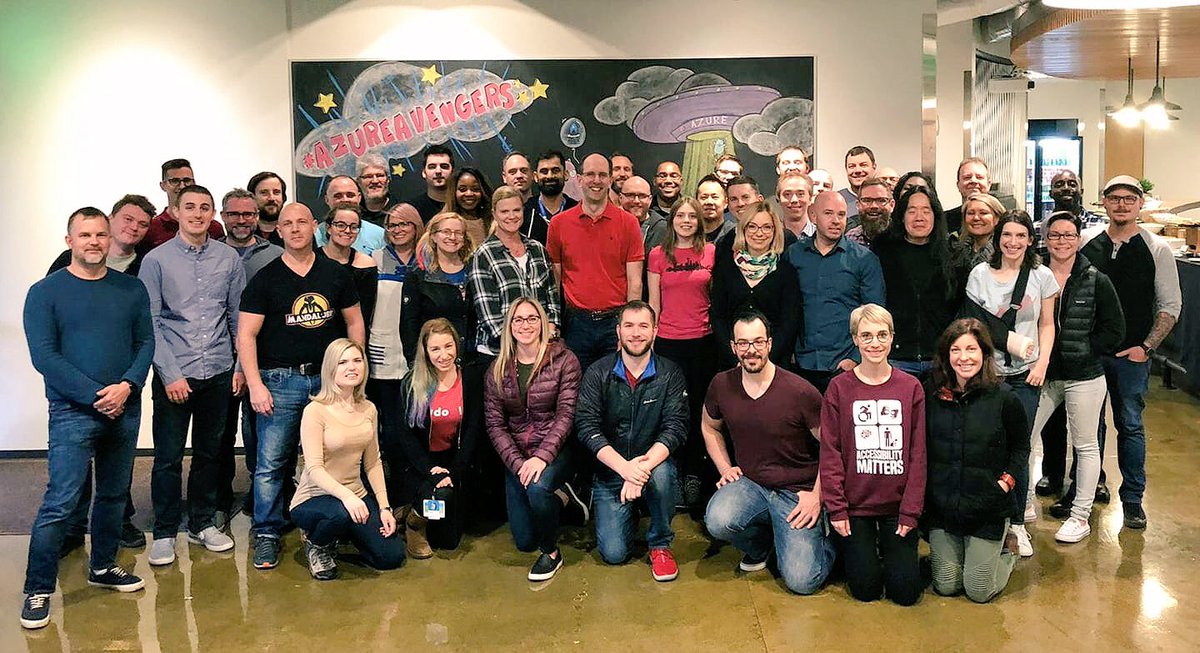 This week marked one year since I joined Microsoft as a Cloud Developer Advocate. I have been reflecting on this past year as I look forward to our third Summit (#1, #2 [above]) next week.
While many of my first experiences in computing and as a developer were with Microsoft platforms, and when I was young I imagined working for Microsoft one day, I never thought I'd come here to work on Linux, Open Source, Containers, Kubernetes and Go, or enjoy it as much as I have.
Firstly, I'd like to thank everyone (including non-Microsofties, and alumni) who helped bring me to Microsoft and encouraged me to join, especially my hiring manager Bryan Liston, Sean McKenna, Gabe Monroy, Robert Outlaw, and Jeff Sandquist, who are a privilege and a pleasure to work with.
As I wrapped up my series of interviews, Jeff shared his comprehensive vision of Developer Advocacy at Microsoft. At that point I was sold, and believed we'd be incredibly successful if we achieved even a fraction of what he had laid out ahead of us. The "we" in this case involved not only our team but others covering everything from Docs to Cloud-native and much more across Microsoft and Azure. One year later the journey has been successful beyond anything we could have imagined. Here are some of the highlights.
Work and life
In my experience, a role is defined by people rather than paper. I came to Microsoft with a high bar, having thoroughly enjoyed my work in my prior role and spoken to teams at other companies I would have been similarly honored to work with.
I am a developer first and foremost and, as a friend put it, "I get sad if I don't code for a long time". I was worried that many advocacy roles might have distanced me from what I enjoyed doing; building things. This was put to rest from day one. The scope we are given to build, dive deep, and learn at the same time, is unparalleled, both in terms of the technology and the talented people we work with every day.
I also have a family, with two young children, and the ability to work in a way that's sustainable over the long term is incredibly important for me. I am pleased to say I have found my work sustainable and healthy in a way I can see myself working for the foreseeable future. I have witnessed many examples where team members, leadership and the company as a whole have employees backs when times get tough outside of work, and this can make all the difference.
What I enjoy
To engage with developers in the community, and at scale, is a privilege and perhaps what I enjoy the most about my work.
It is especially rewarding to remain firmly rooted engineering and be able to contribute hands-on in any area from code to docs to improve the platforms, developer tooling and open source projects that so many developers choose and rely on every day. And as well as being the most diverse team I've had the pleasure to be a part of, each of us are native to the communities we represent.
In years prior I'd watched closely as Microsoft hired Brendan Burns, acquired Deis, began building team second to none in the Cloud-native and Kubernetes space, and established "center of gravity" of talent. As a Gopher, I work with some of the most talented individuals from Go community that wouldn't have imagined seeing at one company, let alone my own team.
Cloud Developer Advocates are globally distributed. I have worked remotely across borders and time zones for much of my professional career and it has been encouraging to see us continue to embrace remote work. The ability to hire the best wherever they are is a tremendous competitive advantage. I've long known Scott Hanselman to be a champion of remote work at Microsoft, and the success of distributed teams like Deis, who joined us over a year ago, is a testament to how well it can work here.
Last but not least, another source of inspiration has been the number of people I've followed over the years who have had long and fruitful careers at Microsoft and been able to do their best work here. From Scott Guthrie to Scott Hanselman, exceptional people from all corners of our field have chosen and enjoyed working at Microsoft. You'll find just a small sample in in this list.
One year later
As founding members of the team, I think we were all excited and in awe of what lay ahead of us. I considered writing a post at the time, but I felt Ashley, who now leads my immediate team, had already done a fantastic job with Why I joined Microsoft. To sum up, I can say the excitement hasn't worn off!
The team has grown rapidly while still remaining true to the original vision. We are hiring Regional Cloud Developer Advocates right here in Toronto, Canada, and around the world, hired our first in Israel, and even added another unique focus area to the team with Cloud Operations Advocates led by Steven Murawski. I've thoroughly enjoyed helping to grow the team and welcoming those who have chosen to join us recently!
Final thoughts
I have worked across the Microsoft and Open Source (from python and Go to .NET and Windows to Linux) ecosystems throughout my career and I have seen the hard work Microsoft has put into open source has been happening for longer than some of us might imagine. It has been breathtaking to see how these worlds have come together and I continue to meet many people who are pleasantly surprised to hear of our work in open source (sometimes for the first time!). I find that across the major public clouds today, whether we consume or help to build them, we are often choosing a philosophy as much as technology and believe we will be successful by being the company that is the most open and the best for developers to deal with. No matter what you are building, I'd love to hear how we can help make that happen for you. My DMs are always open!
Finally, it has been great to meet so many fellow developers face to face this year at hacks, meetups, and events like KubeCon North America (2017), PyCon Canada, our Microsoft OpenHack in New York (Containers) and Toronto (Containers, Machine Learning), Microsoft Ignite, the South California Linux Expo (SCaLE 16x), and GitHub Constellation, to name just a few of my favorites! Thank you to all who have welcomed us so warmly in your communities. I'll be at GopherCon later next month and look forward to seeing some of you there!